Data Acquisition Equipment
and Vibration Analyser


Leading Innovation in Dynamic Signal Analysis, Vibration Testing, Condition Monitoring, & Data Acquisition Since 1996
Crystal Instruments (CI) is a leading USA based manufacturer of systems and software for machine monitoring, dynamic measurement, vibration testing, and acoustic testing. CI's products are used for machine diagnosis, design verification, product testing and process improvement by manufacturers of all types of electronic and mechanical products. The head office is located in the heart of Silicon Valley in Santa Clara, CA with manufacturing facilities located locally in San Jose, CA.
CoCo-80X Handheld Dynamic Signal Analyser
Dynamic Signal Analyzer & Vibration Data Collector
The CoCo-80X is a new generation of handheld data recorder,dynamic signal analyser and vibration data collector from Crystal Instruments. Building on the success of the original CoCo-80,the new CoCo-80X boasts improved speed, a bigger screen, and more connection options. A significantly more powerful processor frees DSP resources for faster, more reliable, and more complex processing in real-time.
The handheld system is equipped with a bright 7.0 inch colour LCD display with multi-point touch functionality as well as a physical keypad. Flexible connections via a USB 2.0 port, 100 Base-T Ethernet port, 802.11 b/g/n optional Wi-Fi connection, SD card interface, HDMI interface, CAN bus/serial port, stereo headphone and microphone jack, and GPS. Connect the CoCo-80X to a PC to download files, remotely control operations, or upgrade the software through several means of network connections.
The CoCo-80X is equipped with 8 software-enabled input channels. A unit initially purchased as a 2 channel CoCo-80X can be remotely upgrade to 4, 6, or 8 channels via purchased upgrade. Each analogue input is serviced by two 24-bit ADCs and a DSP implementing the cross-path calibration technology of US Patent number 7,302,354 B2 to achieve better than 150 dBFS dynamic range. Measured time histories can be recorded in 32-bit single precision floating point format and all subsequent signal processing is performed using floating-point arithmetic. 54 sample rates from 0.48 Hz to 102.4 kHz are provided with better than 150 dB of alias-free data.
The (ISO 11898-1&2) CAN bus digital input allows simultaneous measurement of an automobile's speed, engine RPM and/or any of the hundreds of performance variables tracked by its Controlled Area Network (CAN). An embedded signal source channel provides several standard waveforms that are synchronised with the input sampling rate. A tachometer channel can be enabled to measure the rotating speed during data acquisition.
The CoCo-80X hardware platform supports two different software working modes: Dynamic Signal Analyser (DSA)and Vibration Data Collector (VDC). Each working mode has its own user interface and navigation structure. DSA mode is designed for structure analysis and mechanical testing. It is useful for electrical measurement, acoustic analysis, and a wide range of other applications. VDC mode is dedicated to route based machine condition monitoring, vibration data collection,and trending.
The CoCo-80X supports multiple languages that can be switched dynamically. It comes with English, Chinese, Japanese, French, and Spanish.
Features
2-8 inputs with IEPE
Full speed recording
Battery powered (portable)
CAN bus, USB, HDMI, GPS, Audio, and Wi-Fi
Patented dual-AD technology
Large touchscreen with vivid color display
150 dBFS input dynamic range
SD card for mass data storage
20 volt input range
Hard keys for quick access
102.4 kHz sampling
CoCo-90X Handheld 16 Channel Dynamic Signal Analyser
Powerful Handheld System
The CoCo-90X hardware platform only supports the Dynamic Signal Analyser (DSA) working mode. DSA mode is designed for mechanical testing. It is useful for electrical measurement, acoustic analysis, and a wide range of other applications.
CoCo-90X is equipped with 16 input channels and accurately measures and records both dynamic and static signals. The mass flash memory records 16 channels of streaming signals simultaneously up to 51.2 kHz while simultaneously computing real-time time and frequency based functions. An embedded signal source channel provides various signal output waveforms that are synchronised with the input sampling rate.
The handheld system is equipped with a bright 7.0 inch colour LCD display with multi-point touch functionality as well as a physical keypad. Flexible connections via a USB 2.0 port, 100Base-T Ethernet port, 802.11 b/g/n Wi-Fi connection, SD card interface, HDMI interface, CAN bus/serial port, stereo headphone and microphone jack, and GPS. The user connects the CoCo-90X to a PC, downloads files and upgrades the software through several means of network connections.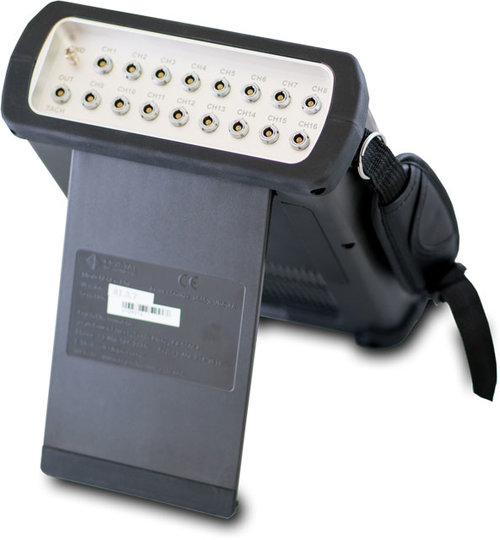 Dynamic Signal Analysis Software:
Data Recorder
Order Tracking
Acoustic Analysis
Acquisition Mode
Vibration Intensity
Frequency Response Function
Sound Power Analysis
Configurable Signal Analysis
The CoCo-90X utilises a new signal processing method, Configurable Signal Analysis (CSA). This method provides unique flexibility for real-time analysis including filtering and spectral analysis. Data can be downloaded to a PC and managed, analysed and exported to other applications using the EDM software from Crystal Instruments.
Features
LCD: 7"color TFT WVGA display 800×480 resolution with P-Cap touch screen, 1300 NITS
SD Card Storage: up to 256 GB (removable)
Number of Input Channels 16
Coupling: AC, DC, or IEPE (ICP)
Input Type: Differential or single-ended
Input Range: ±20 Vpk, ±2 Vpk, ±0.2 Vpk
A/D Resolution: 24-bit per input channel
Sampling Rate: 0.48 Hz to 102.4 kHz, with 54 stages
Dynamic Range: 100 dBFS (100 Hz to 4.6 kHz)
Phase Channel Match: Less than 0.3 degrees up to 20 kHz
Full feature tachometer
Number of Outputs: 1
Output Range: ±10 Vpk
D/A Resolution: 24 bits
Digital Filter: high-pass and low-pass digital filters
GPS Connection
Grounding Connection
Hard Keys
Interface: CAN bus, Micro-HDMI, Audio input, Ethernet, Optional Wi-Fi, USB 2.0, SD Card
CoCo-70X Handheld Vibration Analyser
The CoCo-70X is Crystal Instruments' latest handheld vibration analyser, featuring an improved user interface and redesigned chassis. The CoCo-70X is a four-channel vibration analyser with an IP-67 rating, designed specifically for the machinery Predictive Maintenance (PdM) community.
The CoCo-70X offers powerful processing capabilities and an intuitive user-interface, providing users with an easy-touse data collection experience. The newly designed chassis is lighter and more ruggedised, making the CoCo-70X a perfect device for route-based measurements.
The CoCo-80X supports multiple languages that can be switched dynamically. It comes with English, Chinese, Japanese, French, and Spanish.
Spider-20 Handheld Wireless Dynamic Signal Analyser
Handheld Field Testing Solution
Spider-20 is a compact yet powerful dynamic signal analyser and digital data recorder. It provides four 24-bit precise high-fidelity input channels, and a unique software-selectable tachometer input/ signal-source output channel (all using conventional BNC connectors). Each input is individually programmable to accept AC or DC voltage or output from an IEPE (ICP) sensor with built-in electronics.
Spider-20 is a diminutive 5.3 x 4.3 x 1 inch tool weighing only 18 ounces. It has only three push-button controls and five LED status indicators. This little powerhouse can run over 6 hours on its internal rechargeable battery which can be replaced in field with a backup battery. It can also record data on its built-in 4GB flash memory at the simple push of a button.
Spider-20 communicates with the world through its built-in Wi-Fi interface. Use your iPad to setup and view or record time histories as well as perform spectrum analysis or measure Frequency Response and Coherence functions. Link the Spider-20 to your laptop or tablet running Windows and enjoy the full repertoire of functionality provided by our EDM (Engineering Data Management) software including 1/nth Octave acoustic functions, Order Tracking for rotating machinery, Shock Response Spectra for drop testing, or Digital Filtering for special purpose analysis.
A secondary version, Spider-20E, replaces Wi-Fi with a wired Ethernet connection. The Spider-20E has the same form factor as the standard wireless version.
Transfer measured data to truly massive storage space using the EDM Cloud server. EDM can be used to program your Spider-20 to perform a custom measurement or measurement sequence at the touch of its START button, making it an unintimidating and user-friendly tool. No computer, tablet or phone is required; just use your thumb and your Spider-20 operating in Black Box mode. Use our flexible Automated Schedule and Limiting software to turn this Spider into an intelligent unattended monitor capable of responding to data conditions or networked instructions, notifying you of significant conditions via e-mail.
Features:
Weighs only 18 ounces
Built-in Wi-Fi (Spider-20)
Built-in Ethernet (Spider-20E)
4 GB Flash Memory
4 Input Channels
1 Tachometer Channel
PC Independent
iPad Compatible
6 Hour Battery Life
The Spider-80X, a compact package, is designed for application in three fields: dynamic data acquisition, vibration control, and machine monitoring. It features eight analogue input channels and two channels that may be software selected as analogue outputs for vibration control or tachometer inputs for the analysis of rotating machinery.
A single Spider-80X frontend is a complete two-output controller with the same high quality patented dual ADC input technology as the Spider-81 series. The Spider-80X inputs provide absolute/differential and AC / DC / IEPE coupling choices; charge mode is an available option.
The Spider-80X provides the same time sync Ethernet connectivity and 4 GB flash memory for data and program storage. Multiple Spider-80X front-ends may be linked together using the (eight-into-one) Spider-HUB module and storage can be increased to 250 GB by adding a Spider-NAS mass storage module.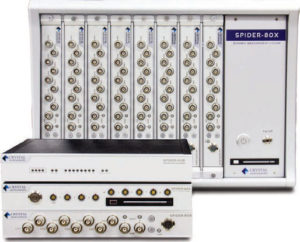 Shown here are the Spider-80XA35, the Spider-HUB, the Spider-NAS, and 9 Spider-80X front-ends
The Spider-80Xi is a compact version of Spider-80X with an extremely lightweight form factor. Featuring a 64 channel chassis weighing less than 10.5 kg, the Spider-80Xi can be carried in one hand and is optimal for field environment testing where portability is essential.
Like the Spider-80X, multiple chassis combine to create a system up to 512 channels, all sampled simultaneously. A dedicated massive storage hard disk (a solid state hard-drive with a capacity of 250GB) allows the time signals of all input channels to record at up to 102.4 kHz/channel. Accurate time synchronisation results in excellent phase match in the frequency domain between all channels, either on the same Spider front-end or across different front-ends. Real time FFT, octave, order tracking or vibration control functions can be enabled. The modular boards of the Spider-80Xi are installed at the factory and are not onsite swappable.
The Spider-80Xi system consisting of the 64 channel chassis is powered by AC power, at 100 to 240 VAC. The Spider-80Xi system consisting of the 32 channel chassis is powered by the DC power, at 10V to 22V. The latter is also easily operable with an external battery pack. With the Spider-Battery, (developed by Crystal Instruments) a 32 channel Spider-80Xi system operates up to 4 hours without interruption.
New! Users now can now insert three front-end cards (Spider-80Xi-P08; Spider-80SGi-P08; Spider-80Ti-P08) making this the only multi-channel count system that allows such multiple connections.
Spider-80SG Strain Gauge Module
The Spider-80SG is a front-end in the Spider-80X family. It can be used for strain measurement and many other type of sensors that require external power. VCS software fully supports the Spider-80SG front-end in all its testing types.
Named for their networkable ability, the Spider series as well as the Spider-80SG share the flexibility of scaling up in channel count and functionality. Users can easily couple multiple Spider-80SG front-ends together or combine them with the Spider-80X dynamic signal analyser or the Spider-81 vibration controller.
Support for full-bridge, half-bridge and quarter-bridge
Fully integrated, simultaneous strain measurement with any VCS and DSA tests.
High channel count supports up to 512 input channels
Customisable excitation within the range of -10V to 10V
24-bit ADCs with sampling rate up to 102.4 kHz
High precision 7-pin Lemo input channels
Input channel adapter to eliminate the need for soldering
User-friendly shunt calibration and offset-nulling
Customise configuration and set-up independently for each input channel
Remote sensing function for distant measurement
Expandable units to increase portability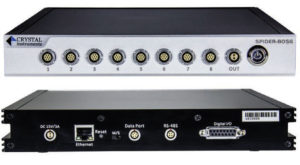 EDM Post Analyser Software
Crystal Instruments offers EDM Post Analyser software, a powerful adjunct to your Spider-based analysis tool kit, allowing you to analyse Time Stream recordings made using your Dynamic Signal Analyser. The beauty of this approach is that it lets you analyse and reanalyse digitally recorded data after the recording event.
Recording first and analysing second makes great sense to first- responding problem solvers. Simply recording does not require all of the tactical measurement decisions be made before data is taken. Often a new problem requires some "get acquainted" measurements to really define the difficulty and its root cause. We are often not smart enough to guess what causes our new challenge. We need to look at some representative measurements from different analytic viewpoints to begin to understand the problem and home in on its solution. The approach is eminently suitable for a team effort. A recording technician can acquire data using minimum equipment while the analyst can remain on post with his analytic workstation.
To offer a complete package of both real-time analysis and post processing, Crystal Instruments developed three separate but related software modules: Post Analyser, Waveform Editor, and File Converter. Post Analyser (PA) contains many powerful post processing tools with batch processing capability. Post Analyser is an independent Windows application that analyses recorded data files on a computer using various algorithms. Most of the algorithms implemented in PA are identical to those used in the real-time DSP of the Spider hardware. The user should expect the same or very similar calculation results using PA to those computed in the hardware in real-time. This document describes the PA functions.
Waveform Editor is an independent Windows application that allows the user to cut, edit or merge the time waveforms. File Converter is an independent Windows application that converts files in various data formats to standard ATFX format.
For convenience of ordering, we also created three bundles of PA: PA Viewer allows the user to view data and create reports; PA Basic has FFT spectral analysis, curve fitting, demodulation spectrum and 3D signal display functions; PA Premium has more advanced functions including Waveform Editor, File Converter, offline sine reduction, real-time filters, octave filters and order tracking.
Engineering Data Management (EDM) is a complete suite of turn- key solutions for both real-time processing and post analysis. Shown in the next page are typical screen shots of EDM PA functions, in the following order: Post Processing, PA Spectra, and PA Projects.