Thermal shock testing is used to replicate multiple sudden temperature fluctuations to cause stress in a product thus opening up weak spots to highlight problematic areas. The purpose of the test is to highlight if a product is well designed and constructed, if so, it will survive multiple thermal shocks. This testing allows the products performance to be assessed under varied conditions in a controlled laboratory environment.
Our Thermal Shock chamber eliminates the need to manually switch between chambers using a basket transition which utilises a robust electro-pneumatic method, this allows for 24-hour testing. Alternatively, if you require manual transition, we are also happy to accommodate this.
We have the capability to perform thermal shock testing in air-to-air or air-to-water:
-70 to +180°C
Transition time <10 second
Any duration, any number of cycles*
Ice water shock test also available (non-UKAS accredited)
*Duration and cycles are usually defined by the applicable standard.
Below is a table of our climatic chamber capabilities: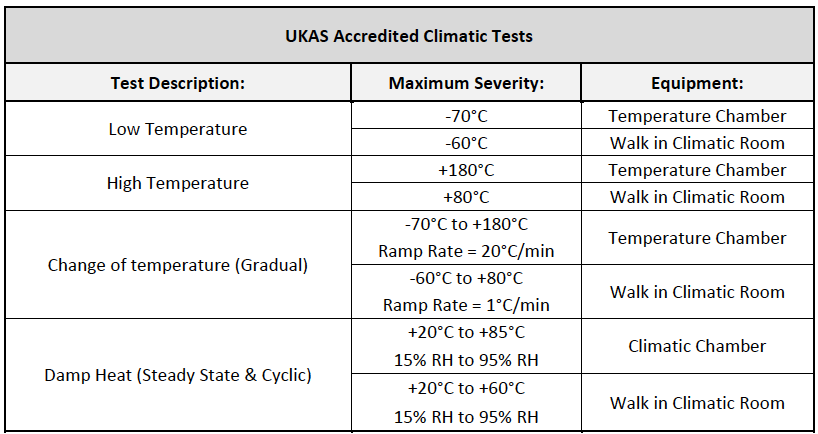 Alphatech Test house has the capability of running tests according to the following Thermal shock standards:
BS EN 60068-2-14: test Na
MIL-STD-810G: Method 503.5
DEF STAN 00-35: Test CL14
RTCA DO-160: Section 5
Any test not on our UKAS scope which is within our capability can be added quickly through our flexible schedule, which is a rare privilege granted to us by our accrediting authority.
Note that our capabilities extended beyond our UKAS accreditation. It is important to identify when you need the full UKAS conformance and when you don't.
See our accreditation schedule and our full list of capabilities for the more information, or alternatively contact us.